2023-2024 District Choral Festival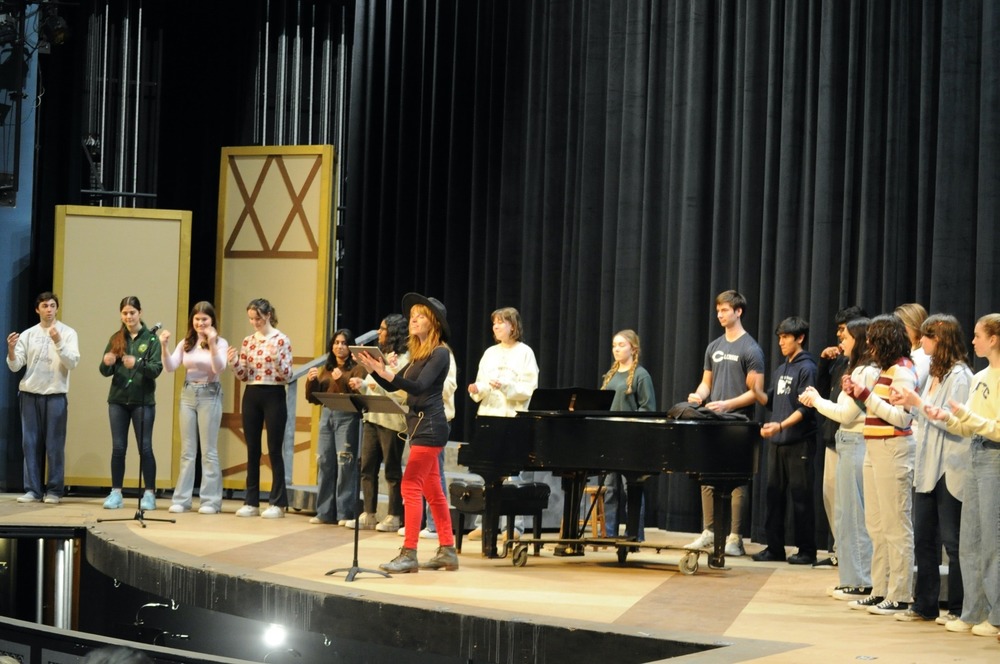 Moira Smiley, singer, composer, lyricist, and musician visited the School District of the Chathams for the 2023 District Choral Festival. Smiley specializes in organically connecting with music in many ways, but predominantly through kinesthetic movement. The District Choral Festival brings together grades four through twelve to engage in learning music from a guest artist. On March 8, students had the opportunity to work with Smiley by school and as a combined group to record a combined piece and take a deeper dive into studying body percussion and kinesthetic movement.
Students also rotated between working with Smiley and District Choral Directors, Ken Bryson, Chatham High School, Amber Griffin, Chatham Middle School and Dana Goodstein, Lafayette School to rehearse song elements and vocal techniques, while Smiley worked with groups individually. Smiley led students to connect with music beyond vocals and engage in the rhythm and sound elements of the pieces to experience how those elements pace and shape music.
The Festival culminated with all students recording "Bring me to the Water" as a combined group. Listen to the combined recording here. Chatham High School students also had the opportunity to rehearse and perform Smiley's "Stand in the River". "Stand in the River" afforded high school students the opportunity to work on more advanced techniques with Smiley, including solos and small group vocals. Throughout the day students from all grade levels had the opportunity to observe the different groups rehearsing and to participate in a variety of choral games and rounds. The interaction amongst grade levels at the District Choral Festival fosters a supportive and cohesive choral community and encourages students to continue their choral journey.
District Choral Festival 2023 was made possible by a grant from the Chatham Education Foundation Ryan T. Ganley Endowment Fund ( Metviner Family) and the Chatham Performing Arts Boosters.