The Design & Technology Department strives to provide our students with the 21st century skills necessary to be productive and successful members of society. Students engage in authentic problem solving, collaboration, innovation, and critical thinking, while developing creativity and perseverance. Students gain proficiency in the application of relevant mathematics, science, technology, and engineering concepts while engaging in the development of solutions to authentic problems and hands-on, project-based learning, utilizing the Engineering Design Process.
The courses in the Design & Technology Department district-wide are designed to prepare students for life in an increasingly technological society. The courses challenge students to create and innovate designs to complex, real-world problems, and to confront the ethical issues that arise from technology's use. Technology is the human quest for solutions to the problems that confront our global society, and the Design and Technology courses are designed to prepare students to think critically and creatively to ensure they are equipped to produce innovative designs in an increasingly technological world.
The hands-on projects and activities allow students to engage in higher order thinking skills through application and synthesis of knowledge by brainstorming, inventing, innovating, imagining, designing, prototyping, modeling, and redesigning. Learning these skills in a contextual manner allow our students to see and value the relevance of the skills and knowledge by making cross-curricular connections and working together collaboratively to build and share knowledge.
Engineering Design Process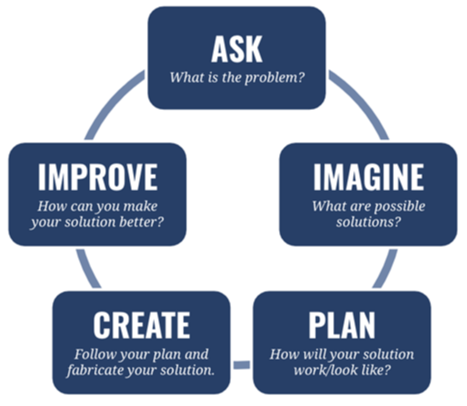 | Resource | Description |
| --- | --- |
| | Typing Lessons/Practice |
| | Typing Course & Games (beginner to advanced) |
| | Typing Games/Practice (focused on the learning of typing) |
| ABCya.com Typing Resources | Fun and educational learning activities for keyboarding |
| | 4 level (12 session) typing course is appropriate for upper elementary grades or advanced typers |
| | Typing Lessons |
Middle School & High School Resources
For additional information on the various CHS Design & Technology courses, please visit our CHS D&T website here.